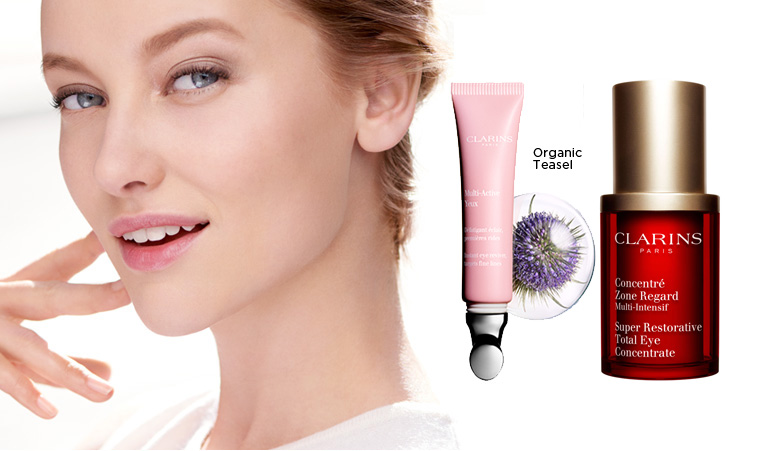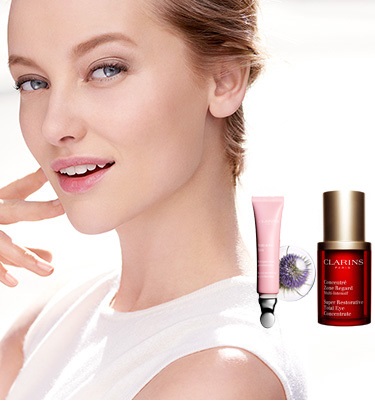 Make Your Eyes Their Most Magnetic
We reveal our top eye care tips to attenuate dark circles, fight visible puffiness and reduce the look of wrinkles.
Let Clarins experts know what your beauty goal is for your specific eye area:
"How Do I Fight
Under-eye Circles?"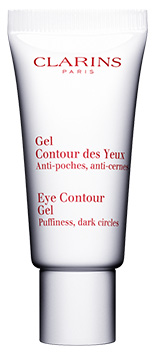 Reduce occasional
under-eye spots (the telltale
"you look tired" signs)
with our award-winning
Eye Contour Gel.
AWARD-WINNING
Eye Contour Gel
$ 41.00
"How Do I Look
More Awake?"
Enhancing Eye Serum
tightens and brightens
for wide-eyed results.
Shaping Facial Lift
Enhancing Eye Lift Serum
$ 67.00
"How Do I Soothe
Puffy Eyes?"
Treat puffy, swollen patches
with Eye Revive Beauty Flash during travel or after an all-nighter.
Eye Revive Beauty Flash
$ 38.25
FRAGILE: HOW TO HANDLE YOUR EYE AREA WITH CARE?
0.35mm: this is how thick the skin around the eyes is.
This is 3-5 times thinner than the skin on the rest of the face.
"What Anti-Ageing Care
is Best for My Eyes?"
From
Age 30
Prevent and Manage
Your First Wrinkles.
Brighten and Fight
Signs of Stress + Fatigue with
Multi-Active Yeux.
Multi-Active Yeux
$ 47.00
From
Age 40
Manage Wrinkles
and Firmness
From
Age 50
Replenish Deep
Wrinkles + Restore
Plump, nourish, and firm
skin with our powerful
Total Eye Concentrate.
Super Restorative Super Restorative Total Eye Concentrate
$ 87.00
Harungana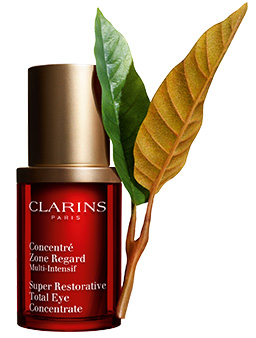 BEAUTY TIPS
Eye Care 101
Q1.
How do I apply eye cream so it works even better?
Our patented methods help skin stay young.
They stimulate sluggish microcirculation without
stretching the fragile skin around the eyes.
WATCH THE VIDEO
Q2.
I wear contact lenses, can I use an eye contour treatment?
All Clarins eye care treatments are suitable for
contact lenses wearers and even the most sensitive eyes.
Q3.
Do I get more eye wrinkles in front of a computer?
The harsh light and intense focus aren't helping.
If you are in front of a computer all day, wash your hands
and tap your under eye area to stimulate it.