Slimming and firming products
Canada's #1 Skincare Brand*
Taking care of your body to maintain a well-balanced figure at any age. As the expert in slimming products, it's no wonder Clarins teaches women how to stay fit and beautiful.
*Source : The NPD Group/BeautyTrends®, Canada, 2020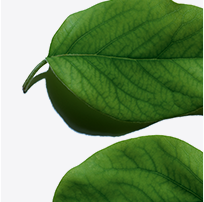 Quince leaf
CONTOURING
Restoring a shapely figure
To stay in shape, it's important to eat a healthy diet, not be sedentary, get exercise and take care of your skin every day. And use Body Fit Contouring Expert to keep cellulite under control on your thighs, buttocks and hips. Quince leaf extract helps slim down your figure and visibly smooth out cellulite. Body Shaping Cream sculpts your body with a blend of caffeine, poppy extract and quince extract. Super Restorative Redefining Body Care for Abdomen and Waist with crowberry defines and sculpts the tummy and waistline. And for a body toning wellness treatment, there's Tonic Body Treatment Oil or Contour Body Treatment Oil. Essentials for both body and mind!
SEE MORE SEE LESS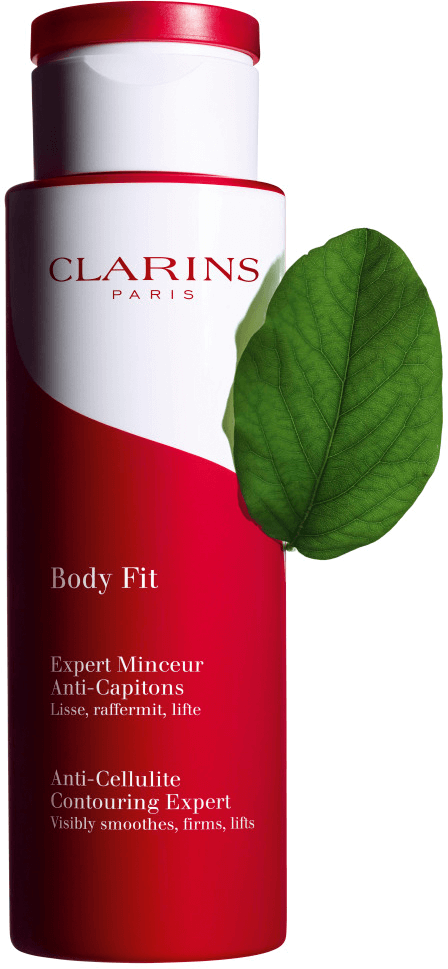 Quince leaf
Firming Action
Maintaining a firm figure
Firm skin is the key to having a beautiful figure. Slimming products are made to target specific needs. The skin might be less firm after a diet or weight change. Both the lotion and cream versions of the Extra-Firming Body line use a blend of lemon thyme and bocoa extracts to protect and strengthen your skin's elasticity. The Special Bust cream treats the highly delicate skin around the breasts to help shape and firm them. Bust Beauty Extra-Lift Gel contains densifying vu sua extracts that have an instant lifting effect. It's an ideal ally when you're slimming down, after pregnancy or during a hormone cycle. A beautiful bust at any age. Get the body of your dreams!
SEE MORE SEE LESS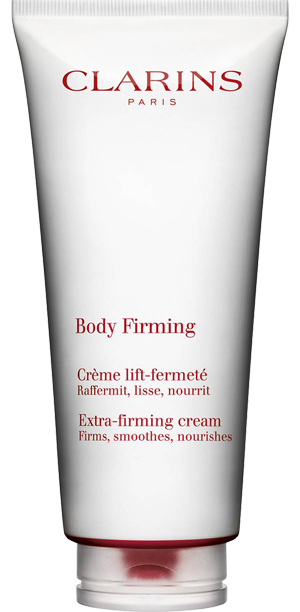 Body Firming Extra-Firming Cream
Stretch marks
Elasticity experts
Women experience stretch marks at various times of life. Weight gain or loss related to hormonal changes, age or pregnancy can really put our skin to the test. The secret for avoiding stretch marks is to nourish and hydrate your skin, and maintain elasticity. One priceless partner in this journey is Tonic Body Treatment Oil with botanical extracts. When it comes to preventing or reducing stretch marks caused by distended skin, get expert skincare. Body Partner with Phyto-Stretch Complex reverses stretch marks with extracts of gotu kola leaves and organic green banana. Massage it in with circular motions and watch them shrink in length, width and depth, and fade in color day after day. A partner you can count on.
SEE MORE SEE LESS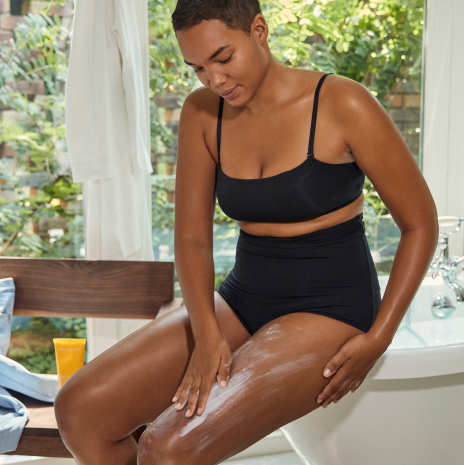 Moisturize
The secret to beautiful skin
Applying a Clarins moisturizer is part of a daily body care routine at any age. Textures that delight the senses and nourish the skin, leaving it soft and soothed. Velvet Body Lotion with aloe vera extract drenches your skin in hydrating comfort. Moisture-Rich Body Lotion nourishes and softens dry skin with shea butter. It has a rich creamy texture that wraps the skin in softness. For moisturizing and toning, Tonic Oil-Balm with essential oils makes the benefits of "Tonic" Bath & Shower Concentrate last longer. Sheer pleasure from head to toe! Renew-Plus Body Serum with water lily flower nectar keeps skin young and wrinkle-free. This anti-aging serum is your beauty defender.
SEE MORE SEE LESS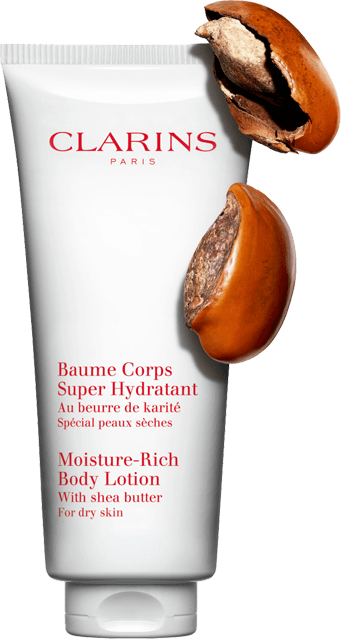 Shea butter
Moisture-Rich Body Lotion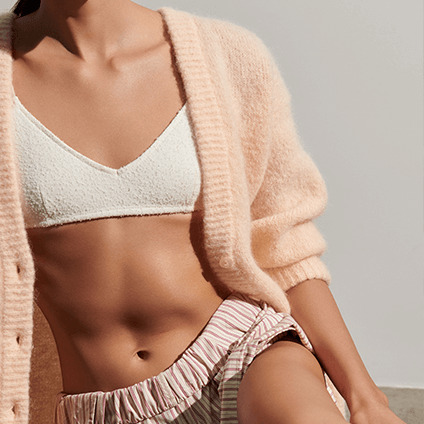 Exfoliate
The essential step
for skin renewal
Wash your skin every day. Gently exfoliate once or twice a week. Clarins scrubs help your skin feel smooth, soft and firm again. Exfoliating Body Scrub For Smooth Skin uses bamboo powder to get rid of dead skin cells and dry patches. It has an exfoliating action that smooths the skin's surface and leaves it incredibly soft. Tonic Body Polisher combines the exfoliating goodness of sugar and Camargue salt crystals with the toning performance of geranium, mint and rosemary essential oils. A sweet and savory scrub for skin that's toned and silky smooth. Now that's summer-ready!
SEE MORE SEE LESS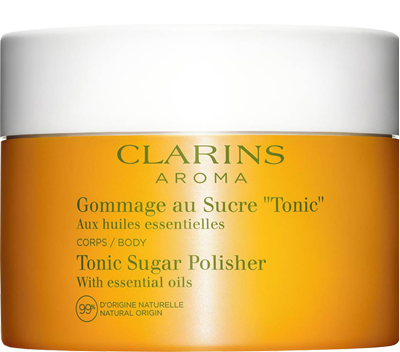 Three steps to firm hydrated skin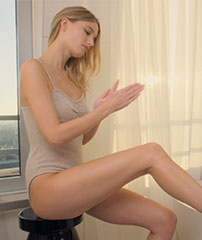 1
3 seconds
Warm up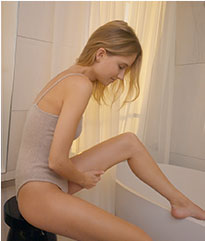 2
10 seconds
Smooth upwards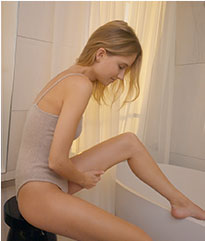 3
30 seconds
Repeat
Any questions?
Our experts have the answers
How can you get firm smooth skin?
The soft and firm skin routine includes scrubbing your entire body to get rid of dead skin cells! Clarins firming creams work even better when applied on clean smooth skin. The exfoliating power of Clarins scrubs comes from their naturally sourced ingredients. Bamboo powder or Camargue salt crystals and sugar? Nature has something for everyone!
Can you slim without losing weight?
Losing weight and some extra pounds is not the same thing as having a firm toned body. Defining your figure comes from striking the right balance between diet, exercise and a few targeted skincare techniques! A healthy body comes from the pleasure of eating well. Olivier Courtin's cookbooks are pure delight for any woman who wants to feel beautiful and great. Meals that do every body good!
Are weight changes bad for your health?
Stress is often the result of a hectic lifestyle. Some women lose weight during times of intense activity. Others deal with them by eating sugary fat foods that pack on the pounds. Losing weight the healthy way may require going on a diet supervised by a physician. The best way to avoid overeating and extra pounds is learning how to control your weight and listen to your body. Yo-yo diets are not good for your health!
How do you choose a slimming product?
Depending on your age and beauty concern, it might be attacking cellulite or stubborn bulges, trimming your waist and belly after 50, or shedding some fat and achieving smooth firm skin. Apply Clarins slimming treatments with the techniques used at Clarins salons and spas. If you sculpt your figure every day, cellulite and bulges will never stand a chance!
What beauty routine do I use for slimming and toning?
For 60 years, Clarins has been turning to Mother Nature for skin-loving active ingredients. Extracts of poppies, quince leaves and crowberry create a natural slimming cocktail that keeps your figure young and beautiful. Alongside these special treatments: have some discipline, eat better and not too much (make sure your enjoy it), exercise every day and practice good hygiene. That's the recipe for a toned and radiant body. For beauty and wellness at any age!
What are some tips for staying trim and slender?
To do away with stress and excess calories: don't skip meals, drink at least 8 glasses of water per day, choose nutritious foods that don't give you the munchies between meals, eat in a calm setting, walk every day and exercise. Light meals and less strenuous workouts like walking and swimming are great for firming up your figure and staying positive! Life is beautiful so enjoy it every day and don't wait for summer to start healthy habits!
Why should I moisturize my body?
More than anything, a toned body with soft smooth skin means a hydrated body. Your skin needs to be hydrated every day to keep it looking nice and feeling silky soft. Clarins moisturizers come as lotions, creams, balms and oils so every woman can find a formula that meets her needs and provides a sensory experience. Look for botanicals like aloe vera, shea butter and essential oils with all the soothing, nourishing goodness to keep skin young and supple, and offer well-being and comfort every day. Your skin will be happy!

Your Beauty Consultation
Your personalized product recommendations
in just a few steps.
Perfect for gifting
Take care of your loved ones by bathing them in beauty and relaxation with our Clarins Gift Cards. Celebrate your friends at any age with a Beauty Box. Lovingly create Gift Sets for a personalized beauty routine by picking out targeted anti-aging treatments. Wow future moms with our iconic products like Tonic Body Treatment Oil or Eau Dynamisante. Why not give our Double Serum as a gift for a special occasion. We have a wide range of face and body care products for a multitude of gift ideas! For all our beauty tips and tricks, visit Clarins Beauty FAQ.
SEE MORE SEE LESS