Makeup removers, cleansers
and lotions
Canada's #1 Skincare Brand*
Cleansing is the first step to a beautiful face. Clarins cares for the skin by formulating cleansing and makeup removal products that are enriched with naturally-sourced extracts from the Alps.
* Source: NPD BeautyTrends®, Canada. Based on dollar sales, latest 12ME Dec 2020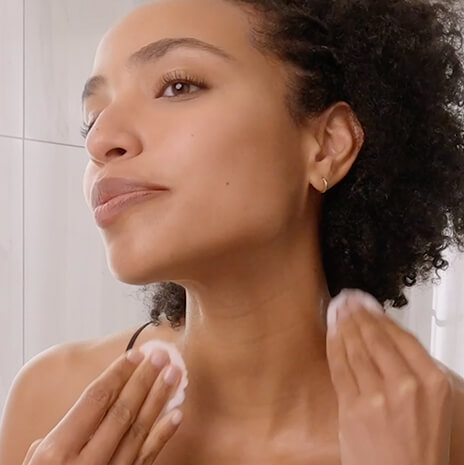 Gentle Complex
INSTANT MAKEUP REMOVAL
Instant Makeup Removal
Each product instantly removes makeup with its tailored cleansing formula. One-Step Facial Cleanser cleanses the face and renews skin's radiance in seconds. A 3-in-1 skin care product with orange extract that cleanses, detoxifies and tones. Clarins Cleansing Micellar Water soothes skin and removes light makeup from the face, eyes and lips in a single sweep. Total Cleansing Oil removes heavy, long-lasting and waterproof makeup. Both the Cleansing Micellar Water and Total Cleansing Oil are enriched with the Microbiota Complex to promote skin balance. Moringa extract helps rid the skin of pollution.
SEE MORE SEE LESS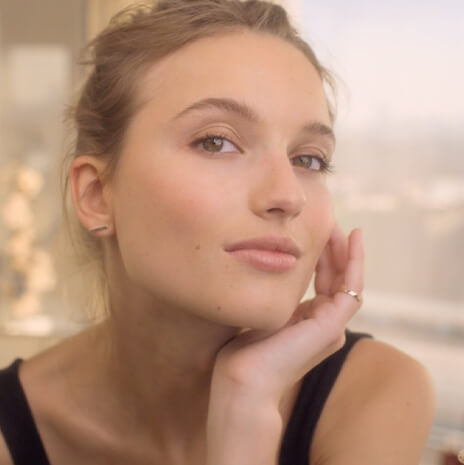 WATERPROOF MAKEUP REMOVAL
Waterproof Makeup Removal
For sensitive eyes and heavy makeup, the Instant Eye Make-Up Remover is a refreshing ally. In the blink of an eye, all traces of mascara, eyeliner and eyeshadow are gone. This two-phase lotion, formulated with cornflower and rose floral water, immediately comforts and soothes the face. A refreshing boost for all skin types!

Instant Eye Make-Up
Remover
Gentian
GENTLE CLEANSING
Velvet Cleansing Milk
Clarins Velvet Cleansing Milk envelops your face in absolute comfort and softness. A fine, silky, creamy lotion that cleanses and soothes. Leaves skin feeling utterly soft and smooth. Just like velvet!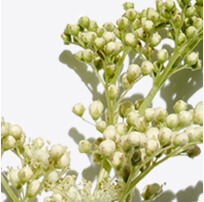 Meadowsweet
WATER-BASED CLEANSER
Gentle Foaming Cleanser
With natural Alpine herb extracts, this range of facial cleansers is available in 4 products suited to each skin type. The Purifying Gentle Foaming Cleanser purifies and tightens pores for combination to oily skin. The Hydrating Gentle Foaming Cleanser moisturizes normal to dry skin. The Soothing Gentle Foaming Cleanser soothes and comforts very dry or sensitive skin. The Gentle Renewing Cleansing Mousse removes dead skin cells and imperfections from the skin with its light, creamy mousse. The organic soapwort extract or "herbal soap" gently cleanses the skin with its foaming properties. A natural blend that protects your face from impurities and external aggressors. Lather and rinse, it's that simple!
SEE MORE SEE LESS
Purifying Gentle Foaming Cleanser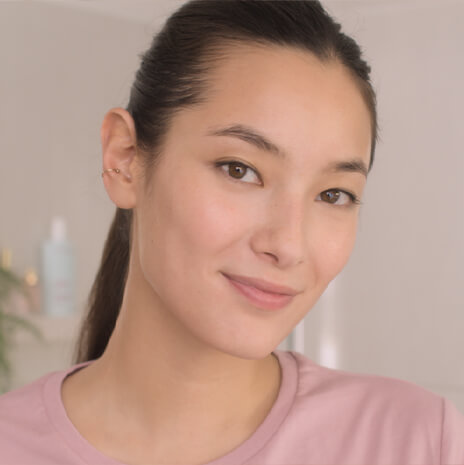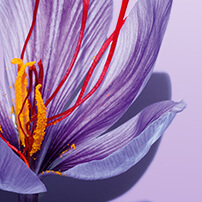 Saffron
TONING LOTIONS
Toning Lotions
Alongside the Gentle Foaming Cleanser suited to your skin type, the Purifying, Hydrating and Soothing Toning Lotions, that are alcohol-free and enriched with plant extracts, energize and strengthen the skin. Their effects aid makeup removal and help balance the skin's flora thanks to the Clarins Microbiota Complex. Use after cleansing, before applying serum and moisturizer. Each Clarins anti-aging skin care range has its own specific skin care lotion. The Multi-Active Day Lotion targets the appearance fine lines from the age of 30. The Super Restorative Treatment Essence helps smooth skin on the quest for youth. The Nutri-Lumière Treatment Essence restores radiance and glow to mature skin. A must-have for your toning routine!
SEE MORE SEE LESS
3 steps to cleansed skin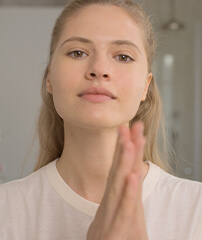 1
3 seconds
Warm Warm up the product and lather with a little water. Apply to damp skin. Use your hands to distribute the cleanser evenly on your face and neck.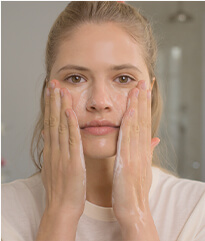 2
8 seconds
Apply Removes impurities and pollution. Repeat: 7 times on the face, 7 times on the nose and 5 times on the neck. Finish with gentle circular movements all over the face and neck.
3
30 seconds
Rinse Rinse with water and dry to completely remove all traces of makeup.
Any questions?
Our experts answer you
Why should I use a Clarins facial cleanser?
With or without makeup, your face needs to be cleansed morning and night to rid it of impurities and pollution and to remove any residual makeup. Clarins cleansers and makeup removers harness nature to create its Gentle Complex with organic gentian and lemon balm extracts. These herbs are grown on Domaine Clarins, coating the skin with softening and protective properties.
Why should you cleanse your face every day?
Your face is exposed to external aggressors, pollution and temperature changes. Whether bare faced or made-up, your face should be cleansed every day, just like the rest of your body. For both hygienic and beauty reasons removing impurities and makeup, choosing a makeup remover or cleanser that suits your skin type and preferences is a must. Top beauty tip: once or twice a week, take the time to remove dead skin cells and imperfections with a Clarins scrub. Leave your skin feeling soft, glowing and beautiful.
How do I choose the right makeup remover for me?
The right choice depends on several factors: the cleansing formula - whether it's milk, gel, cream, mousse, micellar water or oil, how long it takes to remove your makeup, how light or waterproof your makeup is, how sensitive your eyes are... Some women want to remove makeup quickly. Others are looking for a purifying, moisturizing or soothing effect, depending on their skin type. Clarins' selection of makeup removers and cleansers boasts a wide range of products containing the Gentle Complex. Whichever formula you choose, the organic gentian and lemon balm extracts, sourced from Domaine Clarins will leave your skin feeling soft.
What is the best skin care routine for dry skin?
Clarins has developed a special range of Gentle Foaming Cleansers for all skin types. For dry skin, we recommend our yellow bottled Hydrating Gentle Foaming Cleanser. Aloe Vera extract, renowned for its hydrating properties, complements the delicate effects of the Gentle Complex with organic gentian and lemon balm extracts. Combined with the alcohol-free Hydrating Toning Lotion enriched with saffron flower extracts, this product moisturizes and softens normal to dry skin, leaving skin feeling supple and fresh.
What is the best skin care routine for oily skin?
The green bottled Purifying Gentle Foaming Cleanser draws its purifying power from Alpine herbs. Meadowsweet extract purifies combination to oily skin types and tightens pores. Its creamy formula enriched with blue microbeads has a purifying effect on the skin, organic soapwort extract gently cleanses the face and protects it from the effects of hard water. Our Purifying Toning Lotion contains witch hazel and saffron flower extracts which help balance combination to oily skin.
What is the best skin care routine for sensitive skin?
Very dry or sensitive skin requires a soothing facial cleanser. The pink bottled Soothing Gentle Foaming Cleanser gently cleanses, softens and protects skin every day. Natural soothing skin care enriched with chamomile extract and shea butter that cares for and comforts sensitive skin. Our Soothing Toning Lotion also includes the additional benefits of echinacea and chamomile. Its soft and comfortable gel formula gently sweeps over sensitive skin.
How to choose between Micellar Water or Total Cleansing Oil?
Micellar Water, with its water-based formula, immediately freshens skin after removing makeup. Its gentle formula based on moringa extract and Alpine herbs removes makeup and cleanses the skin of impurities and pollution. Perfect for women who prefer light makeup and are looking to remove their makeup quickly. Total Cleansing Oil with organic gentian and lemon balm extracts is especially suited to those who want to remove long-lasting or waterproof makeup effortlessly. Apply the oil to a dry face and neck, press your hands flat on your face then quickly lift them again. Repeat this step 7 times, emulsify with a little water, rinse and apply the Toning Lotion for your skin type. A sensual, cleansing routine for soft and flawless skin.

Your Beauty Consultation
Your personalized product recommendations in just a few steps.
Perfect for gifting
SEE MORE SEE LESS