Give a Spa Certificate
Give a Clarins Skin Spa Gift Certificate
Each Clarins product is a careful blend of natural plant-based ingredients designed to reveal skin's unique beauty. Sensory textures and natural fragrances are the perfect complements to a beautiful spa day experience and create a sense of comfort and wellbeing.
No matter what the special occasion may be—birthday, anniversary, a new baby, me-time, or a promotion—there's always a good reason to give a Clarins spa gift certificate.
The greatest gift you can give is one you would love to receive yourself—Clarins spa treatment gift cards allow the recipient to choose from an exceptionally wide range of highly effective treatments that deliver visible results and pamper the senses.
Perfect gift spa certificates can be purchased at all Clarins Skin Spa locations or online for your convenience.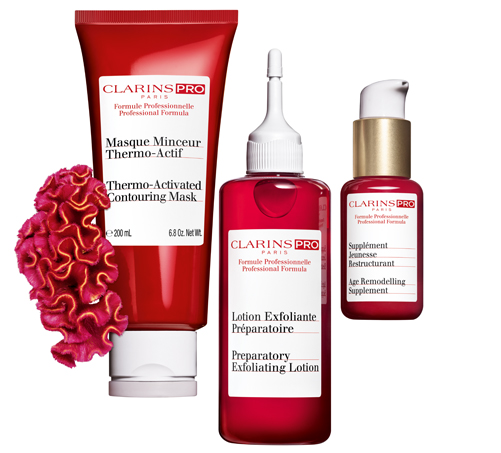 Online Gift Certificate Purchases
You can order a Skin Spa gift certificate online, redeemable exclusively at our Laval Clarins Skin Spa location. It's that easy to gift those you love or appreciate with a Clarins experience that pampers the skin and delights the senses!
Simply click on the link below and follow the instructions on screen to make your purchase.
You can personalize your gift certificate for a gift that's special and unique.
Payment will be processed on your credit card.
You will receive an automatic confirmation email that will include your gift certificate.
Send the spa certificate by email directly to the recipient if you choose.
Gift Card Conditions and Cancellation Policies
Credit Cards and Cancellation Policies:
Please be advised that to secure all spa gift certificate bookings, a credit card payment is required. In the event that you might not be able to attend your appointment, please call us 24 hours ahead of time to let us know.
Please keep in mind that if you do not call 24 hours before your appointment and fail to arrive for your spa treatment, 50% of the cost of the treatment will be charged to your credit card. This policy has been implemented so that customers who wish to book an appointment on that same day may do so.
Gift Certificate:
No rebate will be applicable if you pay for your treatment using a gift certificate.
The Gift of Beauty
Clarins Skin Spas have for 65 years maintained their exclusivity with unique Application Methods that enhance the effectiveness of its formulas—and every spa day experience includes expert tips for making the most of your daily beauty routine. Breathe deeply and enjoy!