A CLARINS.COM, SKIN SPA, AND CLARINS STORE EXCLUSIVE
The Clarins Box (It's here!)
All throughout the year, receive complete skin care and make-up routines. Your new subscription-free beauty rendezvous: you won't want to miss it!
The current Box:
The Love Nature Box
$ 45.00
What's inside every Clarins Box?

1 full-sized product or 1 all-new beauty accessory 1 Clarins product routine developed with love 1 beauty guide 1 healthy dose of pleasure and well-being

Why should I try it?

To test out the effectiveness of Clarins products To take care of yourself and your skin To pamper yourself

How do I get one?

1. Order your box at Clarins.com or visit a participating Clarins store or Skin Spa 2. Receive it at home, at the office or even at your partner's place... 3. Open it and take care of yourself!
The current Clarins Box
A selection of Clarins products combining Beauty and Nature, just for you: take care of yourself, your skin, and the planet.
1 Love Nature Box
purchased = 1$ donated to
the Pur Projet collective
In my Clarins Love Nature Box:
SOS Hydra Mask, 2.5 fl. oz
Toning Lotion - Normal to Dry Skin, 1.7 fl. oz
"Tonic" Bath & Shower Concentrate, 1 fl. oz
Blue Orchid Oil - Dehydrated Skin, 0.07 fl. oz
The Love Nature Box
$ 45.00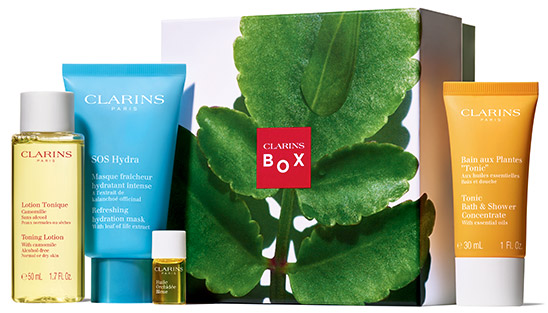 With Clarins, you can be beautiful and responsible at the same time.
See for yourself!
Enter the code inside the guide of your LOVE NATURE BOX to download your planting certificate
Your Clarins Boxes
Discover future boxes and rediscover past ones:
Clarins Love Nature Box

• SOS Hydra Mask, 2.5 fl. oz
• Toning Lotion - Normal to Dry Skin, 1.7 fl. oz
• "Tonic" Bath & Shower Concentrate, 1 fl. oz
• Blue Orchid Oil - Dehydrated Skin, 0.07 fl. oz


Clarins Love Nature Box

$ 45.00

COMING SOON…

The new Clarins Box will amaze you!

Clarins Freezing Box

• Targeted treatments that protect the skin
• Enriched and delectable formulas you're going to love
• Active ingredients that soothe and quench your skin's thirst
• Your 'must-haves' to have a beautiful winter


Clarins Freezing Box

$ 45.00