Massages
Our massages are a customized wellness solution for staying healthy and tackling everyday stress. They combine meticulous body techniques with the therapeutic aromatic and botanical powers of essential oils. An exhilarating one-of-a-kind experience and a treat for all your senses.
Essentials Oils & Hot Stones Massage
60 MN.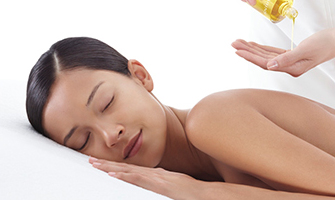 AT THE SPA
Body-hugging movements using "Relax" essential oils combined with hot, polished marble and slate stones to obtain more than just a feeling or warmth. The stones shape are specifically adapted to different parts of the body and prolongs the hand movements to drain, soothe and energize.
AT HOME
Discover Our Skin Spa Treatment Rooms