Invigorating Shine Shampoo
https://www.clarins.ca/en/invigorating-shine-shampoo/80029766.html
300 ml
Item# 80029766
$ 30.00
For healthy, shiny hair
Additional Information
For healthy, shiny hair
This shampoo nourishes and protects your hair.
Product Reviews
About the product
This shampoo nourishes and protects your hair.

From our Spa, For Your Home
For over 60 years, our Spa Body Care formulas have soothed, nourished and illuminated women all around the world. Now they are available in the comfort of your home.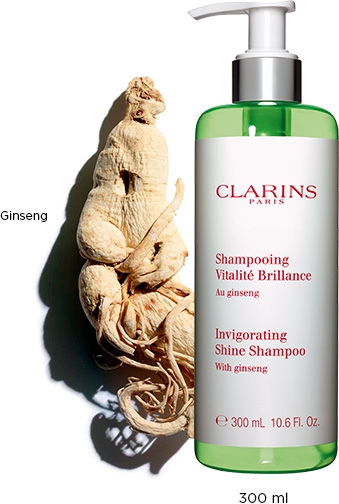 A French Girl's Favourite Shampoo - Now For You
Say "au revoir" to bad hair days with a shampoo that's coveted by our Parisian fans.
KEY INGREDIENT: GINSENG VEGETAL COMPLEX
Helps revives hair and stimulates the scalp for lush, gleaming results.
Featured Ingredients
Ginseng A marvellous plant originally from Asia, Ginseng has been grown for centuries in China. Its root, called the flower of life is characteristic of having a vague human shape. The Chinese claim it has universal stimulating qualities which preserve youthfulness. Ginseng has a general stimulating action on the body and contains a large number of nutrients, notably vitamins. Ginseng extract is one of the ingredients in Clarins patented Anti-Pollution Complex. Discover
Discover the Whole Collection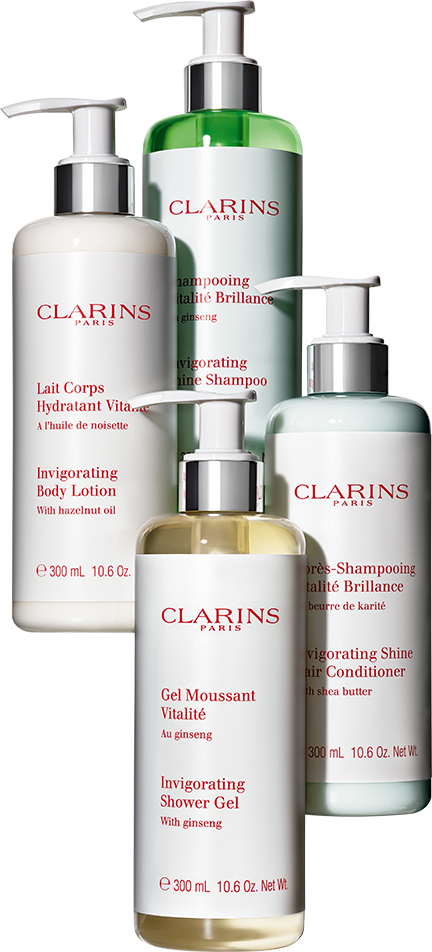 Exclusivity
Reserved only for Clarins Spas & clarins.com.
Generosity
Offer the Clarins effectiveness in new 300ml jumbo size, for all the family!
Modernity & visibility
A collection of 4 modern, appealing & design packagings.