[PhytoStretchComplex] from centella asiatica and organic
green banana, powerful plant synergy:
An expert in plant-based beauty products, Clarins has taken organic green banana extract and asiaticoside from centella asiatica (purified molecule from the plant) and combined them in Body Partner for optimum effectiveness. This innovative botanical synergy has produced [PhytoStretchComplex], capable of strengthening the collagen and elastin fibers that give the skin its firmness and resistance to stretching.
The appearance of stretch marks is effectively prevented and, for the first time, Body Partner also acts on stretch marks on four levels:
1

WIDTH

2

LENGTH

3

DEPTH

4

COLOR
An innovation that serves to visibly reduce the appearance of stretch marks old and new.
Clarins' twofold commitment
a responsible approach to beauty
Eco-friendly packaging
Wanting to take positive action for the environment by reducing its environmental footprint, Clarins has incorporated recycled plastic in producing the tube for Body Partner, continuing its commitment to the circular economy by reusing waste materials.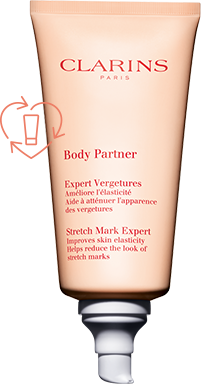 Responsible sourcing
By developing a fair trade program around centella asiatica with Madagascar, Clarins is helping contribute to the welfare of local people.